Airport Transportation Costa Rica…
 Is company dedicated to provide airport transfers from wherever you are to anywhere you need/want to go in Costa Rica. Our speciality is the Private Transportation. Even though in our website, if you go to Liberia Airport Transfers or San Jose Airport Transfers  you will find just the prices for some destinations. But we actually have Airport & Hotel Properties Transportation for a lot more of locations and areas of the country. At our website you will find just the most populars destinations for private transportation; however, keep in mind that Airport Transportation Costa Rica can take you anywhere you want!
Let us simplify your transportation. We'll give you a nice and comfortable experience. Airport Transportation Costa Rica offer transfers – shuttles from the international airports in Costa Rica, yes, both of them (LIR & SJO) to your hotel. Of course we provide the transfers back to the Airports as well; we will take care of your arrival and departure.
In addition: Because we trust in people who choose us; we do not need any deposit, you pay the day of your transfer.
Size:
Don't worry about it, we will handle it, whatever your situation or size of your group is. As quoted before: all our services are private, all our fleet is in great conditions, with all the insurances and every car have Air Conditioning.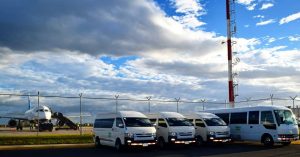 How it works:
1) You can start the process through here: Liberia (LIR) or San Jose (SJO) and then click in "Book Now"
2) If you have any further questions / want to know the cost for a Hotel / rental not quoted on the list. Just email us, we will arrange it: info@airporttransportationcostarica.com
3) Once we get your request and after checking everything with you, we will send you the confirmation in a PDF File.
That's it, an excellent service from Airport Transportation Costa Rica will be ready, just waiting for your arrival. Thanks for choosing us!
Pura Vida!